The Craven Week Rugby Tournament for Learners with Special Educational Needs (LSEN) takes place in George this week, from 27 to 30 June 2022, and the Executive Mayor of George, Alderman Leon van Wyk visited the Outeniqua Park Stadium on Tuesday, 28 June 2022 to welcome this tournament in George.
"I'm here today at the Outeniqua stadium, where the Craven Week Rugby Tournament is taking place for the Learners with Special Educational Needs who are also participating in the Craven Week Rugby. We've got 12 Provinces playing here in George over this week and it's a wonderful occasion for us to be able to host this tournament that alternates between inland and at the coast, and it was in Oudtshoorn about 10 years ago and therefore it is great to have these teams participating in George at present with television coverage."
"George has always looked after people with special needs and therefore it is a great privilege and honour to have this tournament taking place here this week in George where we've got good weather for the entire week," Mayor van Wyk added.
Portfolio Councillor Brendon Adams, Community Services: Social Development, Libraries & Sport who accompanied the Executive Mayor van Wyk said the hosting of Craven Week Rugby tournament in George serves both as a rugby prosperity and an economic injection for George. "We are very excited to have the Craven Week Rugby in George, it's a huge boost for our tourism and it's absolutely great for rugby and for George," Adams said.
According to the organiser Craven Week Rugby organiser in George, Nick Theunissen, the participating Provinces are Eastern Province Elephants, Sharks, Boland, Valke, SWD, WP, Blue Bulls, Griffons, Leopards, Free State, Natal and Pumas.
Ends.
 CAPTION: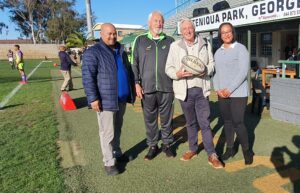 Photo 1: Portfolio Councillor Brendon Adam (Community Services: Social Development, Libraries & Sport), Nick Theunissen (Organiser Craven Week Rugby), Ald Leon van Wyk (Executive Mayor of George) and Veda Manie (SWD Rugby)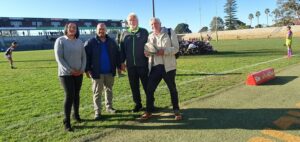 Photo 2: Veda Manie (SWD Rugby), Portfolio Councillor Brendon Adam (Community Services: Social Development, Libraries & Sport), Nick Theunissen (Organiser Craven Week Rugby), and Ald Leon van Wyk (Executive Mayor of George)