UPGRADING OF GROENEWEIDE PARK BULK WATER PIPELINE
PROJECT: The upgrading of the Groeneweide Park bulk water pipeline will have an impact on residents, pedestrians, runners, cyclists and road users. Construction will commence in October 2023.
The estimated construction duration is 6 months.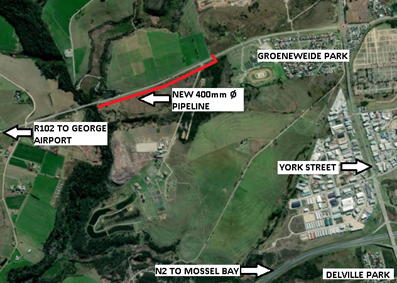 DESCRIPTION:
The existing 200mm Ø bulk water pipeline has reached the end of its design life and must be replaced with a 400mm Ø bulk water pipeline. The new portion of pipeline is 1.1km long, starting at the corner of the George Showgrounds and constructed along the R102 in the direction of the airport, ending approximately 60m from the Gwaing River bridge.
PROJECT PERIOD:
End-October 2023 to approximately April 2024.
SERVICE DISRUPTION:
No Municipal services will be affected, and the road will be open to traffic. Short disruptions will occur when existing users are connected to the new pipeline.
WORKING HOURS:
Working hours will be from 07h00 to 18h00 Mondays to Fridays.
IMPACT:
The construction area will be fully closed to the public. No pedestrians, runners or cyclists may access the construction area throughout the duration of the construction period. Flag persons and temporary road signage must be adhered to at all times.
ACCESS TO SITE:
Access to the construction site will be strictly controlled. No member of the public will be allowed access to the construction area, in terms of the Occupational Health and Safety Act.