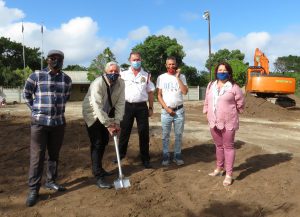 Construction of a satellite fire station in Wilderness, 14km outside George, has commenced this week.
George Chief Fire Officer Neels Barnard said the satellite station in Wilderness had been a long-term goal of the department to cover incidents east of the Kaaimans River Bridge more efficiently. "The station's location near the Shell Garage circle on the N2 will allow for easy access to the major fire and rescue risks of the area – vehicle accidents including hazardous materials spills, Wilderness beach and lakes for water incidents, fuel stations, hotels, dense vegetation and agricultural land."
The Wilderness station will also be one of the first in the Southern Cape to be a double-storey facility with a fireman's pole.
The 440sqm station will comprise 348sqm bottom-floor space for vehicles and equipment and 92sqm above for a control room and staff quarters. It will have three spaces for specialised vehicles including a major fire appliance, 4×4 off-road firefighting vehicle and a jetski and quadbike. The facility will be manned around the clock by four firefighters.
The necessary building plans have been submitted and approved as per any other building in George municipal area, and all necessary permits were obtained for the removal of trees and other environmental impacts.
The station is expected to be ready for occupation in July 2021. "Until then, we appeal to the neighbouring communities to be patient during construction – it will be a short-term inconvenience with a long-term reward that will benefit the entire area.
"We look forward to having a base in Wilderness, which is currently being addressed from the main fire station in the George CBD. There are many advantages of having a fire station in an expanding and diverse community such as Wilderness and surrounds, including the much faster response times to road accidents and fires. Its location next to the Wilderness police station is ideal as there are several overlapping services and administration between the SAPS and municipal emergency services during and after an incident.
"The department is grateful to its Municipal Council for recognising the diverse fire and rescue needs that exist in the area and for supporting an ongoing programme to equip the Fire and Rescue department with specialised gear and facilities to continue protecting land and property," said Mr Barnard.
Wilderness will be the municipality's third satellite station in addition to Thembalethu and Uniondale.
Caption
From left: Protection Services portfolio councillor Cecil Noble, Executive Mayor Alderman Leon van Wyk, Chief Fire Officer Neels Barnard, contractor Andrew Burger of Golden Awards and Wilderness ward councillor Marlene Barnardt celebrated the start of the construction of the Wilderness satellite fire station with a small soil turning ceremony at the site.